by Pamela Pyke, Chosun 3rd Dan instructor
Cooking in a Ttukbaegi is great fun. Ttukbaegi are the beautiful brown glazed bowls that so many soups, stews and bibimbap come in. One of my favorite dishes to make in my ttukbaegi is Gyeran-jjim, steamed eggs.
Just imagine the most fluffy and bubbly scrambled eggs you've ever had. This dish is so easy to make. Set your Ttukbaegi over a medium high flame and add either a chicken, vegetable, or anchovy kelp broth to the pot and bring to a boil. Beat your eggs with chopped scallion and a touch of fish sauce. Lower the heat and stir in your eggs. Cover and simmer for 5-8 minutes. Lift off the lid to reveal this yummy delight! Drizzle on some sesame oil and you are set. Traditionally you would serve this with rice and Gim(toasted seaweed).
One morning I woke with a deep yearning for this dish. I got everything ready and then realized I did not have any sesame oil. As far as I'm concerned I cannot eat Gyeran-jjim without this last little touch. I'm a little out of my mind and absolutely refuse to spend $5-$6 dollars on a measly 4 oz. bottle of sesame oil from the Shop Rite, so off I go to Woo Ri, my favorite Korean market. It's only an hour drive down to Northvale, N.J. where I can get a ½ gallon can of sesame oil for $15.00 and be back by ten am!! It was the best Gyeran-jjim I ever ate! So worth the effort.
I'll write about Woo Ri next month, but this is where you can buy a ttukbaegi in all different sizes.
Remember if you really want to take the leap in preparing Korean cuisine get yourself a copy of Maangchi's Real Korean Cooking and all her recipes are executed on her You Tube page.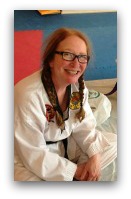 When it comes to researching Korean cuisine I follow two amazing Korean women who have shared their love of good home cooked Hansik (Korean food). Go to You Tube and check outmaangchi.com and omma's kitchen.com

We would love to hear from you... send comments or questions to chosuntkd@yahoo.com

To follow Mrs Pyke, subscribe to the Chosun monthly e-newsletter on the CHOSUN homepage: www.chosuntkd.com