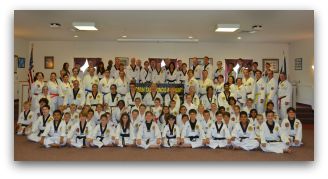 Dojang News and Events
Chosun Summer Belt Promotion Test
Sunday August 16, 2015
The third Chosun Belt Promotion Test of the year was a spectacle of skill, power and focus. Congratulations to all students who tested. Your dedication to traditional Taekwondo and the Chosun Taekwondo Academy is applauded and appreciated. In some ways, it was a bittersweet event in that two long time students, Master Nicholas Fitzsimmons and Master Emma Crouchen will leave Chosun to pursue their college careers and embark on the next exciting chapter of their lives. We will miss them both!
Click the image above for more photos
or check the Chosun website
View a video montage of the test


Read entire newsletter...