By Pamela Pyke, Chosun Taekwondo Academy 3rd Dan Instructor
During the hot summer months of July and August Koreans fight fire with fire!You would think you would eat Ginseng Chicken (Samgyetang) on a cold wintry night, but not in Korea! Ginseng Chicken is served at the height of summer. Long lines are seen outside the Ginseng Chicken restaurants as patrons wait to sweat away the heat of the summer. The idea behind this is if you sweat bullets as you eat this amazing meal you will cool down. This is
considered a very therapeutic experience.
A beautiful Cornish hen is stuffed with short grain rice, garlic, jube-jube (date), ginseng root and lowered into a pot of boiling water. This simmers away for about an hour. Each are served a stone pot with your own chicken. Break open the super tender chicken to reveal the sticky rice, garlic, jube-jube and ginseng root. The chicken and broth is seasoned at the table with salt and pepper. The broth is heavenly. Eating the now tender ginseng root revitalizes your entire being. On our last trip in 2014 the game was to see who could empty their stone pot completely. Cheers would abound as each person displayed their empty bowl!
This meal is easily enjoyed by Americans because it is quite mild compared to some of the more exotic flavors we experience in Korea. I have made this at home and was thrilled with the results. As my chicken simmered I added sliced ginger to the broth to kick up the flavor. So easy and super yummy!
Not all soups are served hot during the summer in Korea. Mul-naengmyeon is a soup that is served icy cold. We experienced a bowl of this at lunch with Master Ahn. A sweet and tangy icy broth served with chewy buckwheat noodles, radish and beef brisket. It was so unusual! I thought I was drinking a salad!
Please consider experiencing these amazing soups with us on our tour in 2016. An adventure awaits your palate and your Taekwondo practice.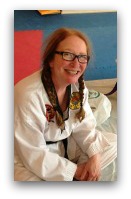 When it comes to researching Korean cuisine I follow two amazing Korean women who have shared their love of good home cooked Hansik (Korean food). Go to You Tube and check out maangchi.com and omma's kitchen.com