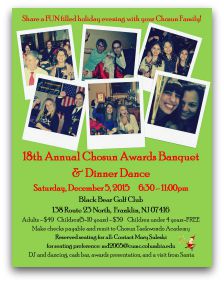 SAVE THE DATE...


18th CHOSUN Annual Awards Banquet
& Dinner Dance
Saturday December 5, 2015
6:30pm - 11:00pm
Black Bear Golf Club
138 Rt. 23 N. Franklin, NJ 07416
Get into the holiday spirit and join your fellow Chosun students and families for an evening of celebration and goodcheer for the whole family! This annual event is a time to take a moment to reflect on the past year and recognize the efforts and dedication of the Chosun family. Invitations were sent out in the October invoices and are available at the dojang. Please invite family and friends and make this a night to remember! RESERVED SEATING FOR ALL...
Contact Mary Suleski at:
md2065@cumc.columbia.edu.



NEW THIS YEAR... A silent auction of goods and services to offset the cost of new training equipment for the NEW dojang!



Click image to join event on facebook
Read entire newsletter...