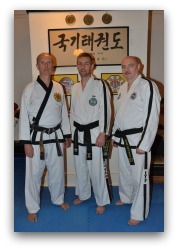 Dear Martial Arts Enthusiast,
Excerpt from Jaunary, 2015 Chosun newsletter:

Stuart Anslow, editor and publisher of Totally Taekwondo Magazine
visits Chosun
December 12, 2014
CHOSUN was graced by a visit from Totally TaeKwonDopublisher, author and school owner, Master Stuart Anslow. What made this visit all the more inspiring was that Master Anslow is from the UK and chose to make CHOSUN one of his first stops while in the US. Accompanied by his lovely daughter, Chloe, just turning 18, he along with Master George Vitale, taught a highly effective class focusing on the practical applications of poomsae. Even though Master Anslow'sbackground is rooted in ITF technique, our two schools meshed seamlessly proving once again that, as Master Vitale says,"our similarities are far greater then our differences." Supporting this notion, Master Anslow in a Facebook post stated: "My recent trip to the USA confirmed something I have felt for many years, that for those that LOVE REAL Taekwon-Do or Taekwondo or Tae Kwon Do.. there is no divide, not between ITF's or Independents and most importantly between Ch'ang Hon & Kukkiwon TKD, between true TKD people, the true essence of our art transcends our differences and for all those that can't see that... you are not the cure, but the PROBLEM.. and real/true TKD DOESN'T need you!"


Stay tuned for an upcoming special seminar slated for next fall, hosted by CHOSUN, featuring Masters Anslow, Vitale & Cook, with other guest instructors.

Regarding above photo Master Anslow stated: "In this picture is Master George Vitale, Master Doug Cook and me... together (or separate) WE ARE TKD!"
Click here for more photos

Read the entire newsletter...