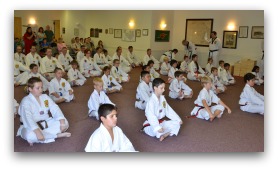 Dojang News and Events
Chosun Belt Test
Sunday August 17, 2014
The Chosun summer belt test was a testament to the exemplary instuction and dedication of the Chosuninstructors. From white belt to black belt, students excelled in technique and spirit and inspired spectators with their skill. Congratulations to all participants and Kamsahamnida to Chosun instructors.
Click above image for more photos
View a video montage
Read entire newsletter...