Dojang News and Events




Bi-annual Black Belt Test


Saturday October 19, 2013
There was a full house at the recent Chosun Bi-annual Black Belt Promotion Test with Grandmaster

Richard Chun

presiding. Thanks to all who came out to celebrate the great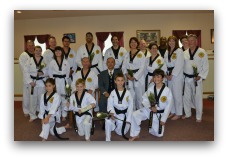 achievements of these dedicated

Chosun Taekwondo Academy

students. Reached for comment, Master Cook stated, "The Black Belt is a license to learn and not a permit to quit. Ever onward new Black Belts."
4th Dan - Terrie Wynne and Arun Salgunan
2nd Dan - Mary Sudul, Laura LoForese, Late Lawson, and Adam Hanson
1st Dan - Jason Gaillard, Nelson Gaillard, Carolyn Cunningham, Laura Towey, John Towey, Michael Esch, Mark Rodenberg, Fiona Dunn, Shane Heslin, Anika Simon, Francesco Desiderio and Caswell Gluckstein
Congratulations to all!
Click above image for more photos
An excerpt from a Black Belt essay
by Anika Simon:
"One of my most happy moments was at my Bodan Belt test. I needed to do a spinning hook kick for my break. I was very worried that it would take many tries, but I ended up breaking the wood on my very first try. I felt so proud of myself. This is now my favorite kick."
Read a composite of student essay excerpts on the Chosun Blog.
Read entire newsletter...