On the Horizon
Book-Signing and reception for new book,
Taekwondo Black Belt Poomsae- Original Koryo and Koryo
by Richard Chun and Doug Cook
Friday November 1, 2013 6pm - 8pm
Ye Olde Warwick Book Shoppe
31 Main Street Warwick, NY
Join

Grandmaster Richard Chun

and

Master Doug Cook

for a book-signing and reception for their new book recently released by
YMAA Publications, Inc.
This is a rare opportunity to engage in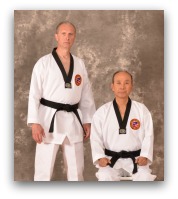 conversation with a true martial arts pioneer, Grandmaster Richard Chun and co-author Master Doug Cook. Don't miss this extraordinary event!
For information contact Chosun:
info@chosuntkd.com
Read book reviews on Amazon.com
and consider writing one!
Read the entire newsletter...